Should Britain Leave the EU? – the results of our poll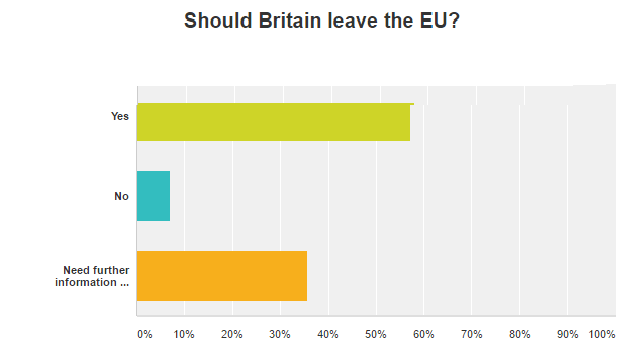 Thank you to all those that took part in our Brexit poll last month. We were overwhelmed with the response numbers. Despite the Brexit overload in the media people were keen to share their opinions.
Our survey was designed to gauge who or what our voters thought would benefit most from an exit from the EU. The over-arching trends from the data gathered would imply that the majority of the businesses taking part in our poll believe Britain should leave the EU. We must however make it clear that our sample is not representative of the whole picture. The majority of respondents were from SME's so large corporates and individuals have not been represented here. Nether the less on our results at least there is an over-whelming belief that we should make out exit from the EU.
We also asked whether you believed that leaving the EU would benefit our personal businesses, the UK as a whole, Private Businesses and Public Services. Despite the fact that 'personal business' came out as the highest category to benefit from leaving the EU 42% of respondents actually answered that they didn't know whether it would be a positive move for their own personal businesses.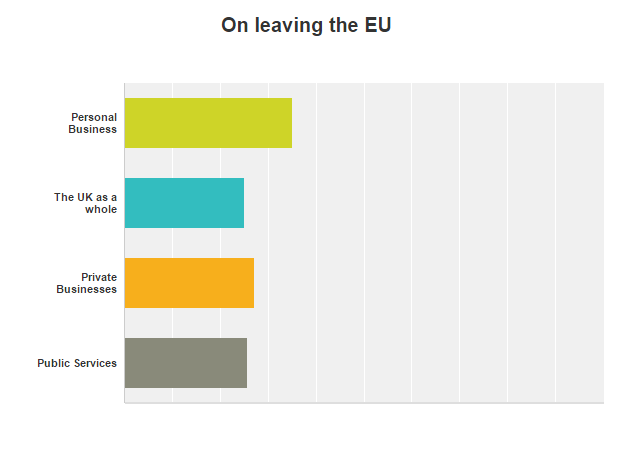 If we leave the statistics aside and look at personal views we probably get a deeper feel for people views.
"Leave the EU and gain more control over our future as a nation"
"Undecided"
"Leave so as to reduce red tape."
"Tempted to leave but unsure if that will be cutting off your nose to spite your face"
"We need to regain control of our own laws and support our sovereignty."
"The government have not given enough information about the so called deal my own views are if we can retract to a position before Tony Blair sold us out then yes we should stay in otherwise I don't think anyone really knows the consequences of leaving."
"I am fed up with the constant push towards greater integration and the various vested interests that makes any improvement (i.e. Common Agricultural Policy) impossible. I am currently minded to vote Leave even if it's just to shake up the establishment. Our politicians will then have to take responsibility for their own actions."
"the great unknown? – personal view is to stay"
So the jury is out, but we probably need more 'unbiased' information and there is undoubtedly a dose of "we just don't know" – maybe a wait and see and hope for the best.