Boris Becker Bankrupt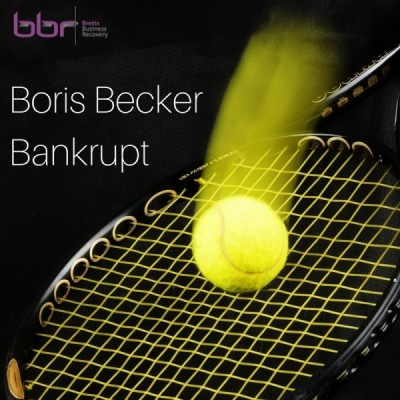 The veteran tennis champion Boris Becker has been declared bankrupt following a catalogue of financial problems going back several years. Becker's remaining assets and property will be disposed of to pay off his creditors following the bankruptcy declaration. Boris is currently employed as a tennis commentator for the BBC and there is a possibility earnings from commentating at next month's Wimbledon Championships will also go towards paying his debts.
The Bankruptcy and Companies Court heard that Becker, had offered to remortgage his €6 million property (£5.2m) in Majorca as part of a deal to pay off the debt. The refinance deal on his property was expected to be approved by a Spanish Bank in around a month's time.
The historic list of financial set-backs endured by Becker, who was once estimated to be worth more than £100million, goes back more than 15 years.
In 2001 he was ordered to pay divorce and paternity settlements totalling more than £20 million to his first wife, Barbara, and Angela Ermakova, the Russian model who had his baby following a brief encounter at London restaurant.
Following that Becker received a two-year suspended sentence for tax evasion. He was ordered to pay £2.5 million in back tax, fines, and costs after claiming Monaco as his main residence while actually spending most of his time in Munich.
Then in 2011 the Dubai property development to which he had lent his name, the Boris Becker Business Tower, went bust.
Boris also had lavish tastes when it came to his properties which he had difficulty in paying for. In 2012 a Spanish court judge ordered a house Becker had built for him in Majorca should be auctioned to pay a debt of £225,000 he owed a local landscape gardening company.
He was also ordered to pay £345,000 to a local building firm in separate civil court. The payments were to cover unpaid bills for carpentry, electrical and plumbing work and the laying of a basketball court.
While the remortgage of his Majorcan property was soon to go ahead the court insisted this was not credible evidence that the debt would have been paid soon and an immediate bankruptcy order was made.
John Briggs working on behalf of Becker mentioned in court about the tennis star: "He is not a sophisticated individual when it comes to finances."
Becker's lack of financial management and understanding was also exasperated by his apparent 'head in the sand' attitude when it came to his finances.
Isobel Brett, Director at Bretts Business Recovery comments "I'm afraid this is a very common trait that we see in business. Individuals often get lost and overwhelmed when finances get a bit tricky. They can sometimes go into a period of avoidance or even denial and are only forced into action when it really is too late. Seeking advice early on can often provide a solution or at the very least limit damage. Not to mention bringing the chance of fresh start closer."
For a more technical look at this story please click here.