Changes to insolvency law take effect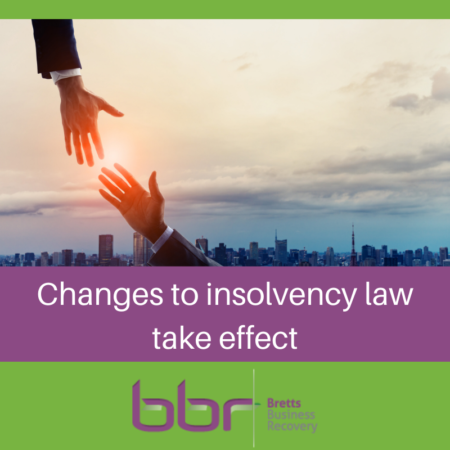 The Corporate Insolvency and Governance Act has received Royal Assent and came into force on 26 June 2020.
The Act, which raced through Parliament in a matter of weeks, introduces new corporate restructuring tools and temporary easements to give distressed businesses the breathing space they need to get advice and seek a rescue.
Full guidance on the Act can be found at GOV.UK website (link to https://www.gov.uk/government/news/major-changes-to-insolvency-law-come-into-force).
The Act introduces a range of easements:
A standalone moratorium
One of the Act's key provisions is the introduction of a corporate moratorium – an extendable 20-working day period giving businesses protection from creditor action while they seek professional restructuring advice.
The directors of the struggling business must file for or apply to court for a moratorium. A licenced insolvency practitioner is appointed as Monitor, overseeing the moratorium (although the directors remain in charge of running the business).
The monitor has a number of statutory roles, including a requirement to bring the moratorium to an end if rescue of the company is no longer likely or the company is not paying debts that it is required to pay within the process.
Suspension of termination clauses on insolvency
The Act extends the suspension of termination clauses when a company enters into an insolvency procedure and introduces a new restructuring plan that will bind creditors to it.
Temporary relief from winding up petitions
Where a business can demonstrate that its difficulties are as a direct result of adverse trading conditions brought about by the COVID-19 pandemic, it may now apply for temporary relief until 30 September 2020 from being subject to a winding up petition and from wrongful trading provisions.
Relaxed corporate governance requirements
Changes to company filing obligations and corporate meeting requirements have also been introduced to give directors flexibility within the corporate governance regime, so that they can focus on protecting jobs and managing operations.
Latest updates and details on each measure are available – visit Government factsheets.
What to do next
We can help you to understand your options or guide you through applications.
If you're concerned about how your business will cope over the next few months, we would be happy to have a conversation (at no charge to you) and consider options together.