First quarter of 2017 reveals an increase in insolvencies.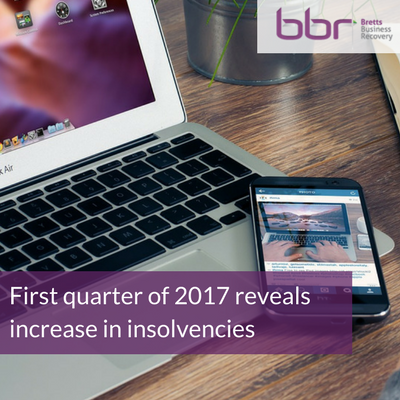 First quarter of 2017 reveals an increase in insolvencies.
The most recent Insolvency statistics have been distributed by the Insolvency Service for the first quarter of 2017.
Company Insolvencies
They demonstrate an expansion in total company insolvencies in England and Wales of 5.3% contrasted with a similar quarter in 2016, driven by an increase in underlying numbers of creditor voluntary liquidations.
Could this be the continuing fallout from the Brexit vote or just a continuing general trend?
"Low interest rates, creditor forbearance, and a growing economy mean insolvency numbers are still close to record lows but the past year and a bit has been much more challenging for businesses." Says R3's President Adrian Hyde
Regardless of the relative low numbers a high number of high street names went into administration in the first quarter of 2017, including Brantano, Jones the Bootmaker, Jaeger and Agent Provocateur.
Those market sectors which are dependent upon consumer confidence and increasing costs of materials are starting to feel the impact, with the effect of the new national living pay and business rate rises exacerbating their issues. The most noteworthy number of company insolvencies (allowing for seasonal adjustments) was in construction, the wholesale and retail trade and vehicle repair services.
Individual Insolvencies
Individual insolvencies rose 6.7% from Q4 2016 to Q1 2017 and are 15.7% higher than this time a year ago.
"The personal insolvency increase has been driven by further rises in Individual Voluntary Arrangement numbers – which is more of an indication of easier access to IVAs than increasing financial problems – but it's notable that bankruptcies have begun ticking up a little." commented Adrian
Families are however feeling the weight from inflation increases, while wage levels are neglecting to keep pace. The ratio of personal debt to household income is on the rise with the level of credit card debt rising to surely unsustainable levels for the future.
At this time there is no evidence that numbers of insolvencies will suddenly rise in the near future, businesses would be well advised to start making sure their finances are in order and that their business plans are taking into account the potentially more challenging trading conditions to come.
If you would like to talk to us about your business' financial concerns please contact us