Kent Professionals Xmas Golf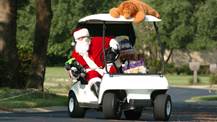 Thank you to all those who attended and thanks to Kings Hill for hosting a lovely day, the course was in superb condition even if the standard of golf wasn't. That said everyone had a lovely day and enjoyed a Christmas meal afterwards.
The results
For the actual day the nearest pin went to Alex Mitchell, the longest drive to Alex Cross, the individual prize to Peter Mico with a great score of 42 points, who will be cut 2 shots down to 21 handicap for the pleasure of winning, in readiness for next season.  The runner up should also get a mention which was Paul Amos with 38 points cut 1 shot down to 13 handicap. Finally the team prize playing best 3 from 4 was Phil Copeland, Paul Amos, Peter Mico and Richard Ludlow who scored between them a fantastic 124 points
Moving on to the results for the season, for those that have played three games or more and with their best three scores counting, the results are as follows: In third place was Phil Copeland with 101 points second Stuart Wharlow with 102 points and first was Philip Andrews with 107 points, who through the year has been cut from 28 down to 25 and after winning  shall now be cut another two shots down to 23.  Good luck next year Philip!