UB40s bass player and business manager have been banned from being company directors.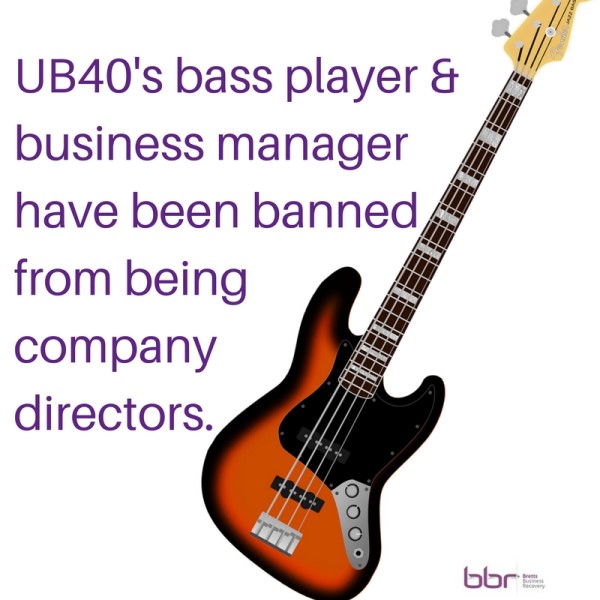 David Parker, a tax accountant and business manager with 1980's pop band UB40, and the group's bass player Earl Acton Falconer, have been banned from being company directors along with Lanval Reginald Storrod, who were directors of Reflex Recordings Ltd. Reflex Recordings Ltd was founded in 2006.
Mr Parker admitted breaching his fiduciary duties as director by dissipation of more than £250,000 of company assets in December 2013. The dissipation or squandering of funds was deliberate and knowingly carried out while the company was insolvent.
The directors were found to have done so without making due provision for subrogated rights and claims of at least two creditors.  Mr Falconer and Mr Parker were found to have been aware, or at least they should have been aware, of the subrogated rights at least two creditors held.
David Parker, was given an 11-year disqualification. Earl Acton Falconer and Lanval Reginald Storrod , who was also connected with the band, were both disqualified for four years. All three chose to submit a disqualification undertaking to the Secretary of State for Business, Energy and Industrial Strategy, rather than face further action i.e. a Disqualification Order which would have resulted in a longer disqualification period.
Reflex recording's assets included the music catalogues of UB40 and any royalties associated with them. The company also conducted and managed the business affairs of UB40. On 18 December 2013, the business went into administration.
The chief investigator of insolvent investigations for the Midlands & West at the Insolvency Service, Susan MacLeod, said: "In investigating insolvent companies, the Insolvency Service always looks very closely at individuals who demonstrate a disregard for creditors and appropriate action is taken where wrongdoing is uncovered."